Stormwater Management
What is stormwater management?
Stormwater runoff flows over hard surfaces, such as rooftops and driveways, roads and parking lots before it is routed into drainage systems (pipes, catchbasins) and ultimately into natural areas such as creeks, lakes and wetlands.

As the landscape changes from undeveloped natural areas to developed cities, the land where the runoff can be absorbed into the the ground continues to decrease and are replaced with hard impervious surfaces that do not absorb stormwater.
 
Proper stormwater management is necessary to control erosion, flooding and water quality in order to protect our creeks, rivers and lakes from pollution.
Stormwater Management is a process for controlling increased runoff due to new development.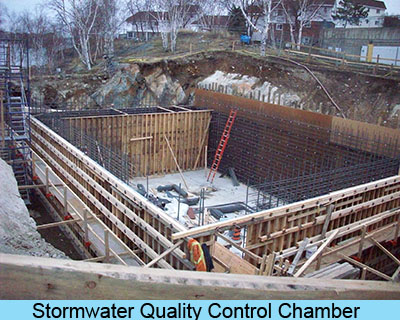 Development generally increases the amount of impervious surfaces such as asphalt, building roofs or concrete. These surfaces do not allow water to infiltrate and all the water that falls in these locations accumulates as stormwater runoff. If left uncontrolled, the increased runoff can cause erosion and flooding and degrade water quality.
The stormwater management process compares runoff rates from a site prior to and after development. The post-development runoff rate must be equal to or less than the pre-development runoff rate. This decrease is runoff is accomplished through the use of storage and infiltration controls. Storage can be in the form of rooftop storage, parking lot storage or pond storage. Runoff rates are controlled by detaining stormwater and releasing it at a slower controlled rate. Infiltration controls are methods of increasing the amount of infiltration through the use of infiltration trenches or soakaway pits. Increased infiltration replenishes groundwater supplies in the area and reduces runoff.
Stormwater management is an important part of the environmental planning process. Prior to receiving a building permit, a stormwater management plan must be completed and accepted by the regulating authority.
K. Smart Associates Limited provides stormwater management design for land development projects such as residential developments, commercial and industrial developments. We have a complete library of stormwater management computer software to assist us in modeling simple and complex stormwater management projects.
Resource Links

Ministry of Environment: Stormwater Management Planning Design Manual
Ministry of Transportation: Stormwater Management Requirements for Land Development Proposals

Home