Building Sciences
K. Smart Associates Limited provides a full line of Building Science Engineering Services.
We complete Building Condition Assessments for the purpose of purchasing a property or to refinance the property.
We work on residential, commercial and industrial properties.
For new construction and Condominium registration we will complete the necessary testing and construction review for the Bulletin 19.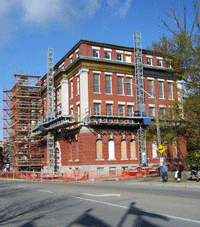 Building Condition Assessment
Bulletin 19 Testing & Certification
Building Repair Programs
Reserve Fund Studies
Parking Structure Investigation
Fire Code Compliance/Inspection
Ontario Building Code Inspections
Balcony Assessment
Roof Condition Assessment
Building Envelope Assessment
Vibration, Strain and Noise Monitoring